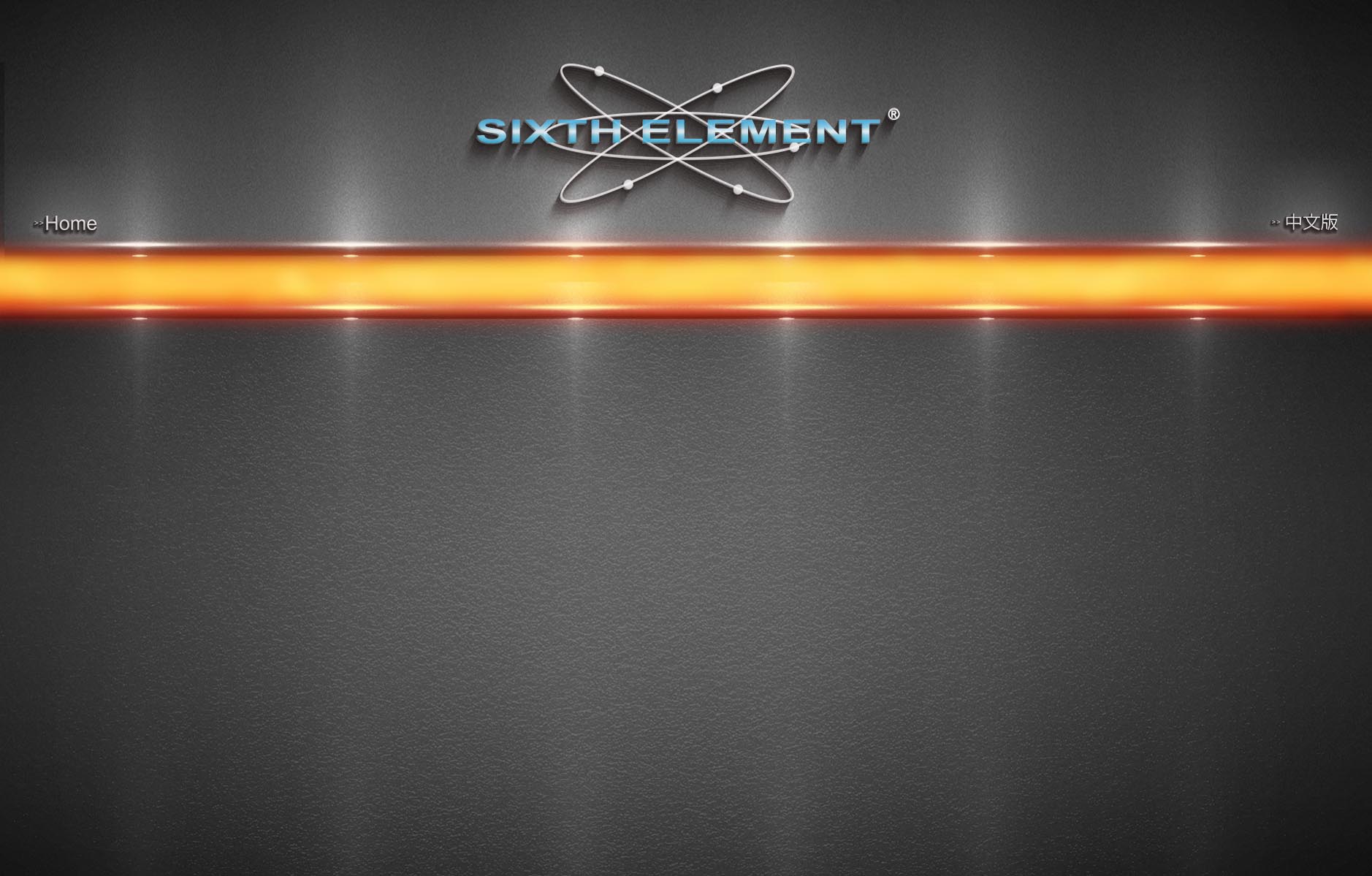 Latest News
SIXTH ELEMENT TECHNOLOGY

Quantum Technology, Carbon reduction, automotive power technology experts

Copyright 1996 - 2021 Sixth-Element Southeast Asia Group ( Wynherm E&T ). or its subsidiaries. All Rights Reserved.
Sixth Element Taiwan (Branch)
20 Ang Mo Kio Industrial Park 2A , #04-31,AMK TECHLINK, Singapore 567761.
Mon to Sat 9.00am - 6.00pm, Sunday & Public Holidays Closed


From : Mercedes E220 CDI (Diesel) - Mr Fauzi ( SMRT Taxi Driver )
Approached by Mr Harnes and install 1 Red Power Bar ( V1s ) into cigar lighter socket. Smooth ride along my journey, feel no engine vibration on my vehicle and good power. This red small little gadget really help and improve on my fuel consumption right now.

From : Benz Mercedes - Mr Chong
Install 1 Red V1s Power Bar at the engine battery. Good power and i will sure buy another piece Sixth Element Red V1s Power Bar in my car again for my rear boot battery.

From : Chrysler 300M 3.5L V6 - Mr Jimmy
Although Chrysler engine is already powerful but sadly it weight about 1815Kg. High end not a issue for me but pickup still not to my satisfaction. Brought 1 Sixth element Red V1s power bar and give it a try.To my surprise , my pickup improve and the engine don't sound as noise as before when i wack my car.

From : Kia Picanto 1.0 - Mr Roland
Came across this product at Singapore Expo Car Carnival. Approached by Jason and have more understanding about how Sixth Element Red V1s Power Bar works and the horsepower, torque it can be produced. Initially can't really convince myself to buy this small little piece of product. The horsepower and torque claim by jason is unbelieving. Finally decide to give it a shot and try it out. After i plug in the Red Power Bar and drove my car out for a spin. Woww, this small little thing really work as claimed. Really improve my pickup and even my wife notice the extra power.

From : Silver Chery T11 2.0 - Mr Saleem
Drastically improved and get rid of low end throttle response and rpm lower than before when going up slope, thumb up for Power Bar V1s & Red FS Power Chips which installed at my four spark plugs.

From : Honda Integra 2.0 GSR (A) - Mr Nick
Was skeptical about this product, but after reading the review and the testimonial. Decide to give Red V1s power bar a try. Install direct to battery. Response was faster and smoother reving all the way to 7500rpm. Aircon cooler and engine vibration lesser esp when aircon fan kick in. It works!

From : SAAB 95 Turbo - Mr Tan
This product works perfectly on my Turbo charge car and really smooth out the overall driving experience.

From : Kia Forte 1.6A - Mr Fahmi
To my surprise, my pickup improve and more responsive on my gear shift at lower throttle, smooth ride overall.

From : Honda Stream 1.8 - Mr Loh
After installing Red V1s Power Bar, can really feel the different by starting car and great throttle respond and can feel it instantly within sec.

From : Lancer CS3 1.6 M - Mr Nelson
Very smooth, quieter and responsive. Worth for invest.

From : Chevolet Aveo 1.4 A - Mr Eldi
Test out this Red V1s Power Bar and low end throttle respond very fast and rpm lower than before when going up slope.

From : Honda Airwave 1.5 - Mr David
Car seems to vibrate lesser when aircon kick in after installing Red V1s Power Bar. Good stuff.

From : Mazda 5 Premacy 2.0 - Mr Goh
Test out this Red power bar and pick up improve a lot and i have no problem driving up slope with full load.

From : Toyota Altis 1.6 A - Mr Lam
Just brought this 5 years old Altis and been using this car about a month. So far fuel consumption quite ok but low end not to my expectation. Try out this red power bar and can feel instant power the moment i drive out my car. This product definately not gimmick or snake oil compare to other product in the car accessories market.

From : Nissan Sunny 1.6 - Mr Yap
As most of the end user know that sunny is a drinker. Fuel consumption is really bad and i been thinking means and way to lower my fuel consumption. Been using this Red V1s for 2 weeks and suprisingly this thing works and i get about 12% saving for every tank.

From : Mitsubishi Lancer 1.5 EX - Mr Brian
Air intake temperature lower by about 2 degree celcius under hot sunny day as show on my OBD II guage after using Sixth Element K Power Magic Spray. Aircon colder.

From : Mitsubishi Colt 1.5 - Mr Liang
After spraying this Sixth Element K Power, low end improve and even driving on highway over taking is not a issue anymore. Can feel that engine bay cooler after open up bonnet when reach home. Good stuff.

From : Honda Odyssey 2.4 A - Mr Gary
Great service and glad that you assist me to install this Red V1s Power Bar on my battery. Audio system sound better and aircon cooler. Can feel the pull when high rev although my car wear 19' rims and heavy body weight.

From : Mitsubishi Colt plus turbo 1.5 A- Mr Nick
Even at high boost can't hear the rough engine noise anymore when wack my baby colt plus turbo and it's really smooth and powerful. Can't believe this small little gadget works like magic. As i'm still thinking maybe it's just my imagination. Having some crazy ideal, decide to plug in my lorry and try out. To my suprise, whole cabin quiet down a lot, torque improve a lot and cruising much smoother than before. Great product and will recommend to most my friends.

From : Opel Astra 1.6 A - Mr Vincent
Been using the Green V1 power bar for few months and received call from Jason to test out this Red V1s power bar. Mention to jason that i already got 1 Green V1 in my cigarette lighter and don't think i need another Sixth Element Red V1s. Jason insist meet me up to test out the power of this latest product. After install at battery, it's really powerful and the different is great with 2 Power Bar. This Red Bar is definitely more powerful than Green and engine noise also sound smoother. More power and engine smoother with just SGD 320 per piece. No regrets.

From: Kareem driving Hyundai Verna 1.4 with superman sticker
Been using this product around 3 years, starting from blue follow by the latest Green V1 Power Bar. Still remember clearly the first time when i saw this product, the first question (Jason are you selling this small little toy to me)? Thanks to Jason, he explains to me how this small little toy works. Test out the blue power bar and surprisingly this thing really works miracle. Experience more torque and horsepower gain. Can feel that lower engine noise, aircon cooler, brighter headlight and even audio sound system clearer. Most important thing this product give me about 35km extra every full tank. Two thumbs up!

From : Kenneth driving Nissan Sunny 1.6
Response much better across all RPM and now i don't have difficulty over taking. Used to get 450km but now i can hit 500km for every full tank. Definitely will recommend this product to my friends and relatives.

From : Vincent driving Opel Astra 1.6
Gear change much faster and can feel improvement in low, mid and high gear. Lower fuel consumption about 7 percent fuel saving. Good stuff.

From : 1 driving Chevolet Aveo 1.4
Bought 2 black and 2 blue power bar. Try out Green V1 Power Bar on 20/11/2010. Very powerful pick up for my small little car. Upz for this product.

From : Nelson Golf GTi
Try out the 3th piece Green V1 Power Bar and amazingly this thing produce more and more power. Start to get greedy and will get the 4th piece for sure.

From : Karthik Honda Civic 1.8 auto
After installing Green V1 Power Bar, my wife asking me why my car feel so different and more powerful. ( Purposely let her drive without telling her in the first place that i install power bar ).

From : John Chevolet Optra
Can feel less vibration from this 6 yrs old engine. Smoother drive and getting about 30km extra for every tank.

From : Patrick Toyota Picnic
Engine not dragging and no problem with full load.

From : Fiazal Alfa Romeo 159 2.2
This my 2nd tank and the pickup still the same. Very punchy and moving off is a breeze. Water temp lower by 3 - 4 degrees. Fuel consumption also improve. Understand that this product can last 20000km. Value for money.

From : Honda City 1.5 - Mr Adam
This K Power Magic Spray really works miracle. Before buying, Jason sprays a bit on my finger and i can feel a sharp icy feeling. It s cold and icy. Try out and throttle response improve. Colder engine operating temperature and best of all engine bay look sparkling shine after using this K Power Magic Spray. Not gimmick and you won t regret buying this product.

From : Trans Cab Chevrolet Epica LT Taxi
I just received my new Taxi 2 weeks ago, it really amazed and impressed with Sixth Element Power Bar V1s, simply inserted it to the cigar lighter and within 10 second my new Taxi can feel smoother transmission in gear shift and torque.


Sixth Element continuously carries out research and development for new products and upgrade their performance on engine systems. All our products performance has been tested and proven by the markets and end-users.
Intensive Research
and Development; Innovative Products.